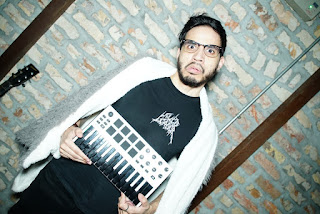 Blahza pushes his breezy hip-hop sound to a more palatable direction on his latest track "Scared of Heights"—out today on all digital and streaming platforms worldwide.
Released under Umami Records, the song dives deep into themes of romantic nostalgia and pandemic anxiety to create something that matters in the broadest sense. "It's not easy to admit when you don't have courage, but it's so relatable because we all fall short in some aspects, especially love—when the past year has made interactions very limited," Blahza reveals.
Blahza puts into perspective how important the song meant to him, and for the most part, how its message could resonate to music fans of all stripes. "So many of us don't take the opportunity to even say hi to someone we're are crushing on for fear of rejection or making ourselves look dumb. This song is about finally saying hello and starting that dream relationship you want and can provide."
The multi-talented rapper/producer also pointed out how "Scared of Heights" is a personal anecdote of him being infatuated with someone in his teenage years. "All the times growing up when I was really into a girl who was in my class and didn't know how to tell her that I liked her," he admits. "The countless memories imagining what I would say when I finally built up the courage."
Tucked somewhere between Plain White T's alternative pop leanings and Post Malone's titanium-grade hooks, the rising hip-hop artist and songwriter embraces his more vulnerable side in songwriting, and drops memorable verses over moody but immaculate production.
With its icy breeziness and stripped-down appeal, "Scared of Heights" easily ranks as one of his most accessible yet earnestly compelling releases so far, firmly establishing himself as one of the formidable forces this side of Asian-American rap.
https://www.umamirecords.sg/scared-of-heights/
About Blahza
Los-Angeles based Asian-American hip hop artist and producer Blahza makes music with a larger than life sound about his afflictions, aspirations, and accomplishments, inspired by the American counterculture of the late 1960s and music from the early 2000s.
Blahza recorded, mixed and mastered Blueface's record 'Next Big Thing' in 2018. In 2019, Blahza opened for Members Only at the first stop of their album tour, and released his EP 'Bloom'. Blahza has been featured on major playlists including Spotify's Beats & Rhymes, New Era: Asian Hip-Hop, Border Beats and 都会の空と音楽と.
Born and raised in Van Nuys, of Chinese and Puerto Rican parents, Blahza grew up surrounded by music and diversity. He fell in love with rap music and especially how it bridged different cultures.
Blahza is currently working on his full-length debut album 'Sad Songs For Happy People' slated for release later this year.