Just after a pictorial for a play poster, we went to SM Manila just to freshen up and while waiting, we encoutered this kiosk that is selling just one product. But the product they are selling is what I never expected to be, ICE SCAMBLE! Yes, the Pinoy ice delicacy that are sold by cart peddlers which I grew up with. This pink concoction has been a favorite especially to kids however recently I have not tasted this for quite some time now.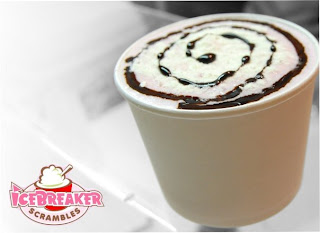 There was also a decline for the demand of this product when they were issued for the sanitation of its preparation. The Ice and the other ingredients were placed in containers that were open to contamination. Thus many people would not like scramble anymore since it poses a threat to health. Ice breaker ensures that their product uses clean utensils and fresh supplies making the scramble experience much better.
Althought it maybe a little bit pricier than the peddled ones but it is still affordable enough even to the average Pinoy. They also have toppings like marshmallows and rice crispies plus you can also add more milk powder by just adding a small amount. I believe that this will be a hit for summer, however I hope they would add more branches because I don't go to SM Manila frequently. Its a blessing from above for this ice scramble! This will at least quench the heat from the current El Nino heat.