Light Rail Manila Corporation (LRMC), the private operator and maintenance provider of LRT-1, assures the safety of passengers as it increases capacity of trains in support of economic recovery.
Following the Department of Transportation (DOTr)'s directive to gradually increase the maximum passenger capacity of trains and adhere to OPLAN AIR (ADD PUVs, routes, trains, INCREASE speed, capacity, REDUCE travel time, headway), LRMC will adjust passenger loading capacity to 30% gradually up to 50% later on. Passenger control will be implemented using the PLPP (passenger limit per platform) strategy, wherein a defined number of passengers are allowed to board per station.
With the increase in loading capacity, Filipino commuters may continue to be assured of safety inside LRT-1 trains. Based on recent international studies conducted, there is not a high risk of infection for COVID-19 in public transportation. According to Spanish health experts from the Spain's National Research Council (CSIC) and Spanish Epidemiological Association, the risk of contagion on buses and trains is low due to the safety measures such as the use of face masks, as well as improved ventilation systems. Researchers from Imperial College London have been commissioned by the Transport for London to carry out ongoing testing for COVID across the Tube and bus network, and found no evidence of coronavirus. Countries such as Japan and France which are highly dependent on transit also did not trace back any infection clusters to public transport.
As part of its commitment to safety, LRMC's Health, Safety, Environment, and Quality (HSEQ) Department is also conducting its own study on the safety protocols for its LRT-1 trains. According to LRMC HSEQ OIC, Dr. Louernie de Sales, "The LRMC study performed the dispersion experiment using Glo Germ® Mist to simulate sneezing and coughing. Glo Germ is commonly used to simulate bacteria of 0.5micron size. This study is limited only to the measurement of respiratory droplet dispersion, and the airborne transmission of COVID-19 was not taken into consideration yet. An experiment using SARS-CoV-2 or similar specimen was not carried out for the safety of the researchers and the participants. The study is currently undergoing peer review by partners from the University of the Philippines, who are also helping us work on this further."
LRMC will publish its study once peer reviews are done. The study aims to support the safety in trains systems studied from abroad in the local setting.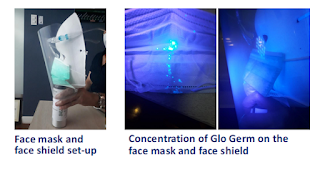 LRMC emphasizes the importance of wearing face masks and face shields—on top of its other existing measures. This is also aligned with the 7 Commandments of public health measures proposed by a panel of medical experts led by former Department of Health Secs. Dr. Manuel Dayrit and Dra. Esperanza Cabral : 1) Wear face masks and face shields; 2) No talking and making telephone calls; 3) No eating; 4) Keep PUVs well- ventilated; 5) Conduct of frequent disinfection; 6) No passengers with COVID-19 symptoms are to be allowed inside the public transportation; and 7) Observe appropriate physical distancing.
"Rail Public Transportation is an enabler of our consumer driven economy. Our mission remains to provide safe transportation, and we achieve this using best in class safety protocols. In addition, we study the passenger behavior and target disinfection on the places most in contact of the passengers. These are measured by our team weekly, and adjustments are made to the priority areas for cleaning. I can assure our commuters that the LRT-1 system is safe," said LRMC President and CEO Juan F. Alfonso.
Since it resumed operations during the GCQ period, LRMC has implemented above-minimum health and safety measures to ensure passenger and employee safety such as complying with the government's directive of "No Face Mask, No Face Shield, No Entry" policy. Other measures also include diligent temperature checks with Forward Looking Infrared thermal scanners in six (6) major LRT-1 stations; Proper Ventilation is assured with fresh air exchanged every three minutes and filtered in the ACU system. Other measures are the installation of disinfection mats, impermeable plastic barriers on train seats, regular chemical disinfection complemented by UV C disinfection of all trains and stations; contactless transactions; and strict crowd control. LRMC was the first to implement the "no-talking and no answering phone calls" policy inside the trains. It has also pioneered the use of digital and mobile technology via its ikotMNL mobile app for information dissemination, convenient trip planning, and contact tracing of passengers.
For more updates and info on the LRT-1, follow LRMC on Facebook at facebook.com/officialLRT1, Twitter at @officialLRT1, or download the ikotMNL mobile app for free on Google Play and App Store.