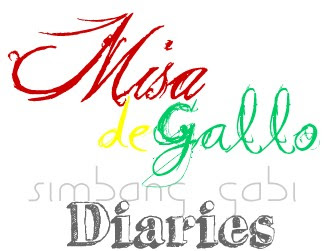 The fourth night of simbang gabi was very special to me since its also our Christmas Party for AYOM (Archdiocesan Youth Organizations and Movements) at the Arsobispado de Manila in Intramuros, Manila. I've been working with this group for the whole year with major activities such as retreats and team buidling. And for this night, we will have mass before the actual party. I was also excited to see the belen collection the archdiocese is displaying. They are just small figurines so they dont take a lot of space but they are well crafted.
The chapel inside arsobispado has been my favorite indoor chapels despite its seating capacity. Its ambiance is simple yet very solemn. The mass was celebrated by our minister Father Marthy Marcelo. Its his first time to spend Christmas with the AYOM group since his installation on March. We loved his sermons because even it starts with witty humor, eventually he would turn it to a serious, touching and meaningful speech. He is also very new in the priesthood as he celebrated his first year this year. And we are looking forward for more years of journeying with him.
The message in for the mass' gospel is still linked to the message of being not afraid from God's will be with him and will protect all who are faithful to him. This time we would also see Joseph as he recieve the good news although he hesitated at first. If I were in his shoes, I would also be hesistant but the good thing that he done is that he chose to follow the great plan for the arrival Jesus.
As I was saying we also had the Christmas Party also at the same venue but in the 4th floor where Pope John Paul II also dined years ago. We were about 150 people there. Of course there is food, games, dances but no booze (hey its a church movement!). But eventhough, we had a lot of fun thinking that this buiding is the office of the Archdiocese of Manila. This just proves that being pious can be fun especially when you have your friends.