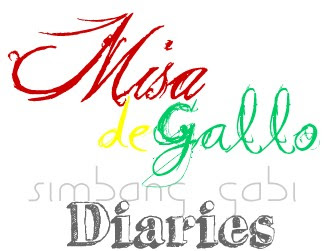 Day six is somewhat like starting misa de Gallo again because I went back to Sacred Heart Parish for the sixth day mass. However, I managed to attend it in the morning making the experience a little bit different from the first time. Well one thing odd about the experience is that since its very early in the morning and our street is so quiet yet there would be incidents of theft and assult. My mother acted as an observer as I walk in the eerie but lighted street. Eventually, I did make it to the church but a little bit late.
As you may know, the gospel would again speak of the visitaion of Mary to Elizabeth, who bears John the baptist. And as the anticipation for John's birth comes so does also the coming of Jesus. I was wondering since she was said to be at her old age if the pregnancy would be difficult as well as raising John as a child. Oh well, at least he grew up to be a great servant of God.
After the mass, I noticed that there were vendors of
bibingka
and
puto bungbong
. Oh what joy! I have not tasted these two in years! Although I noticed that prices also went up too as time passed. But I had to take this chance to get them and probably feel nostalgic about the taste and feeling. But more than that, I also tried the
lugawan
thats also beside the church. I forgot the name but it is famous for the students of PUP and that area because the
lugaw
is very affordable and you can get refills!
As I arrived home, I went ahead in taking a bite from the
puto bungbong
and
bibingka
. And since the journey home would be humid and cold. I have to heat them up in the microwave so they would appear as freshly baked. And they did not dissapointed me as they tasted good and brought fond memories. And it registered in my mind that I would probably get another serving on the next days of
simbang gabi
.